IRVINE, CA & ALPHARETTA, GA, August 26, 2015 – Neudesic and Handshake Software, the market leading, award-winning provider of SharePoint-based products and services to the legal market, today announced that The Firm Directory, the leading people-based expertise location system for law firms and legal departments built on the Pulse collaboration platform, will integrate with Handshake Software's SharePoint-based Portals, Enterprise Search and data-driven Expertise Locator products.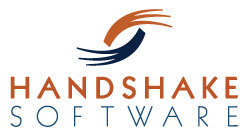 "We work with both Handshake and Neudesic, and they deliver great results. So we're excited that they're teaming up, and we look forward to what comes out of their collaboration," said Patrick DiDomenico, director of knowledge management at Ogletree, Deakins, Nash, Smoak & Stewart, P.C.
The partnership combines the best in class Neudesic Firm Directory, featuring people-centric profiles that enable the capture and discovery of experience, with Handshake Software's leading portal solutions for the legal industry. Clients can now utilize The Firm Directory's skills taxonomy to surface attorney experience, which is now integrated with Handshake Software's data-driven attorney expertise from financial and other line-of-business systems, time entries, documents and contacts.
The Firm Directory's secure social collaboration features from the Neudesic Pulse platform will also add new capabilities that will enable Handshake customers to decrease dependency on email with a knowledge management community within their portal.
Glenn LaForce, Handshake Software's vice president of global sales & marketing, said, "The Neudesic Firm Directory partnership brings two key benefits the market has been asking for: social collaboration around clients, matters and practice areas; and a 360-degree view of firm expertise from firm data and people-derived information."
"Our partnership with Handshake Software will deliver greater value for legal industry clients by helping firms accelerate the benefits of expertise discovery and social collaboration within their SharePoint intranets." said Ramin Vosough, vice president of products at Neudesic.
To learn more about the partnership or see a demo, visit The Firm Directory in Booth 529 and Handshake Software in Booth 407/409 at the International Legal Technology Association (ILTA) Annual Conference in Las Vegas, August 31 – September 3, 2015. For additional information, contact ramin.vosough@neudesic.com or glaforce@handshakesoftware.com.
Additional Resources:
About The Firm Directory
The Firm Directory is an experience discovery system designed to accelerate knowledge management and marketing efforts for law firms and legal departments. The software improves cross-selling and knowledge-sharing by decreasing the time it takes to locate the right people with the right experience, skills or relationships required for new pursuits and client matters. The Firm Directory enables firms to capture attorney relationships, court affiliations and proficiencies with LinkedIn-style familiarity and ready accessibility via mobile applications. The Firm Directory was built on the award-winning Neudesic Pulse enterprise social collaboration platform, and was created by Neudesic, a technology services company. To learn more, call (949) 789-2641 or visit www.thefirmdirectory.com.
About Handshake Software
Handshake Software is the market leading and award-winning provider of SharePoint-based products and services to the legal market including portals, enterprise search and mobility solutions. Handshake leverages existing firm investments in practice & financial managements systems, CRM, ECM and DMS by delivering powerful system integrations with Microsoft Office and SharePoint. Handshake Software greatly reduces the time, effort and cost of integrating and presenting business information with Microsoft SharePoint, Search, Microsoft Office and mobile devices. Other business benefits include rapid deployment, reduction of overall risk, unparalleled flexibility and integrated security. Handshake clients include 50% of the Am Law 100, and 45% of the Am Law 200 and NLJ 350 with total users exceeding 110,000 across 10 countries. The company was named 2011 Innovative Vendor of the Year by the International Legal Technology Association's (ILTA) annual Distinguished Peer Awards. Handshake Software is a Microsoft Gold Certified Partner and member of the Microsoft Business-Critical SharePoint Program. For more information about Handshake Software, visit http://www.HandshakeSoftware.com.